Return to Previous Page
Details
Detailed Product Information
24"x24"x2".
Acoustimac's Deco Collection brings some great pattern designs to our tried and true acoustic panels. It's a Jungle out there! So take a Walk on the wild side with these awesome Deco Safari animal prints!
(No animals were hurt making these panels!)
Show off your sophiticated side with our Deco Classic Panels. Accentuate the decor of your room with our Deco Modern Panels.
Combine these panels with solid colors from our DMD or SUEDE collections to create the perfect balance of acoustic performance and aesthetic decor. We offer an array of Colorful, stylish designs to accent your decor. More Styles to come!
Two other collections are available: Modern and Classical.
Create your own style, the possibilities are endless!
Buy several today. You will love the effect these will make on your room!
Available Colors
Product Technical Specifications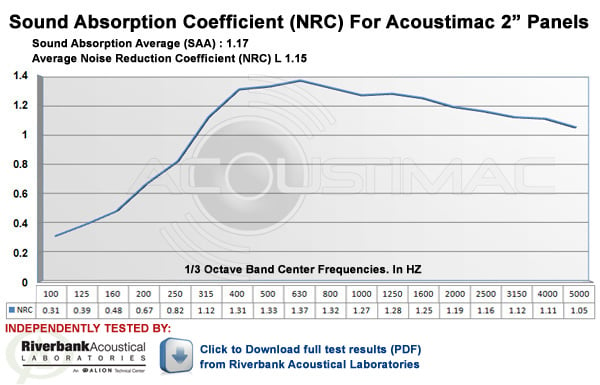 Customer Reviews
Review by

Claire

I was very impressed by how fast this got shipped, just a few hours after ordering.
This bass trap looks good, was very easy to fix on the wall and the difference in sound is huge in my little recording booth. And it's eco friendly!
Couldn't be happier! (Posted on 6/12/11)

Review by

Hellojack.

Great transaction. fast shipping. Excellent quality. I was missing some hardware but my order was corrected promptly.
(Posted on 3/22/10)

Review by

TTOPSMITH

Excellent quality and prices. Fast shipping. (Posted on 3/22/10)

Review by

Dj Funkalot.

My neihgbor, a pastor told me about acoustimac. I ordered some of their acoustic panels and bass traps and what a difference they make. 1000 times better than the old acoustic foam I had.
Their corner bass traps are awesome. A+++ (Posted on 3/17/10)

Review by

Jr ROCCO

Acoustimac rocks. Fast shipping and great quality. I did have 2 panels get damaged in shipping. UPSs doing. Acoustimac staff was very understanding. They sent me replacement at no cost and with no questions asked. Great customer service. (Posted on 3/17/10)

Review by

XTRA BONE

Acoustimac has the best price on the web. Panels look beautiful in my theater.
I acoustically treated my entire room for less than $500. Great advice and great poduct. (Posted on 3/17/10)

Review by

RYAN SEYMOORE

A friend of mine told me about acoustimac as they treated his studio in California a couple of years ago.
I bought several 2x2 acoustic panels from acoustimac and I could not believe the difference in the sound of my system. My theater equipement is fairly high end. I had over $15000 in gear and this $700 I spend with acoustimac made the biggest improvement.. NOTICEABLE RIGHT AWAY EVEN WITH THE PANELS JUST LAYING AROUND THE FLOOR.
I highly recommend acoustimac. I am now saving more money for some bass traps. Acoustimac, I WILL BE BACK FOR MORE!! (Posted on 3/9/10)