Available Colors
Note: Computer monitors may not display the actual colors of these fabrics properly. We always advise you to order sample swatches before making your purchase to confirm your selection.
Detailed Product Information
48"x24"x2".
We always like to keep things fresh at acoustimac, and keeping in that tradition, we proudly present our new executive collection panel series. For those who need the sophisticated look of Guilford of Maine fabrics on a shoestring budget, Our executive collection offers 12 choices of fabric texture and color. As a permanent addition to the acoustimac family, our Executive collection panels and bass traps are available in all sizes and offer aesthetics and durabilty comparable to Guilford of Maine's FR701 series while preserving Acoustimac's commitment to maximum performance.
Now you can match our high performance acoustic treatments with your existing office furniture to create the perfect harmony of form and function. Use them to match or accentuate your existing decor by using neutral and earth tones, or make them stand out with brighter colors.
48"X24"X2" Acoustic panels.Installation hardware included.
Not sure what colors you want:
Product Technical Specifications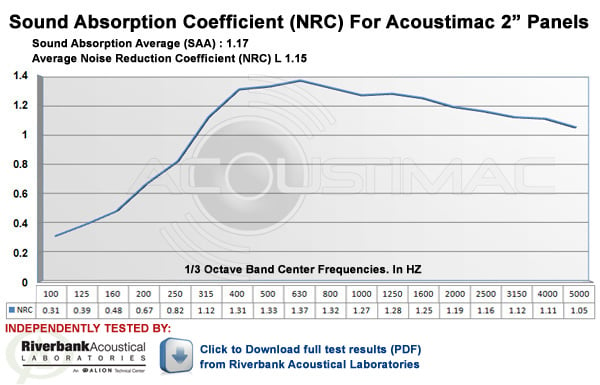 Click to download PDF