Acoustic Panels, Baffles and Bass Traps FAQ
Q: Where can I get Testing data for your products Acoustical Performance? (ASTM-C423)
A:You can download those here:
•ASTM-C423 Testing data for 1-Inch Acoustic Panel Products
•ASTM-C423 Testing data for 2-Inch Acoustic Panel Products
•ASTM-C423 Testing data for 4-Inch Bass Trap Products
•ASTM-C423 Testing data for 6-Inch Bass Trap Products
Click on the tabs below to select which product data you wish to view:
Room Coverage Calculator
With this calculator you can determine just the right amount of acoustic panels you'll need to effectively treat your space. If your room has a ceiling height of 13' or lower, Please use the ceilings up to 13 feet tab, and enter the dimensions to your space in the provided fields and select from the drop-down menu what type of room you wish to treat, then press the Calculate button. If your ceiling is higher than 13 feet, then use the ceilings over 14 feet tab. If you wish to treat a studio space or home theater, then click the Studios and Home Theaters tab Ranges are displayed as minimum to recommended. Minimum coverage will provide adequate acoustical performance, while recommended coverage will provide significantly better performance than the minimum. A common practice is to begin with the minimum coverage and then deploy any additional coverage as needed. For your convenience, we also display examples of the calculated coverage, translated into popular panel sizes such as the 4'x2', 4'x4' and 8'x4'.
---
Q: What are acoustic panels used for?
A: Sound panels are used to remove reverb and echo in any room. They provide excellent sound absorption at all high and mid frequencies. Sound absorption panels placed on the first reflection points in a listening room will greatly enhance the overall sound. Because in doing so you stop the sound waves from bouncing back and fourth, which in turn yields better stereo imaging and a greater depth of sound stage.
---
Q: What's the difference between an acoustic panel and a bass trap?
A: Bass traps are thicker and denser versions of our acoustic panels which are designed to absorb bass frequencies down to 40 Hz . Acoustic panels are designed mostly to absorb high and mid frequencies (human voices, treble...) with some bass absorption (from 250 Hz to 4000 Hz). Acoustimacs bass traps absorb high frequencies just as well as our standard panels, except they have the added advantage of being able to absorb much more of the lower frequencies. Bass absorption panels such our Corner trap work best if placed in room corner. They help eliminate standing waves, dips and spikes that are notoriously prevalent in smaller rooms. So for example, if you notice that you have too much bass in one spot of the room, and very little in the sweet spot, you needs bass traps to calibrate the room lows and to give you as flat a low frequency as possible. Which results in tighter punchier bass that does not overwhelm the rest of the instruments and sounds equally good no matter where you sit in the room.
---
Q: What's the difference between a sound panel and an acoustic baffle?
A: Aside from price, our Baffles only come in one size which is 4'x2'x1" and although they provide the same levels of absorption, the main differences between Baffles and our panels are: *Echoblock Baffles have no hard edges *Baffles are wrapped in fabric front and back and they come with three grommets for easy ceilings or wall installation. When suspended from a ceiling, our Baffles provide dual sided absorption. Which is very important when you room is large and has very high ceilings.
---
Q: Can I use your bass traps instead of acoustic panels or Baffles?
A: Absolutely! Our bass traps offer broadband absorption (Highs, mids and lows). In fact Acoustimac's PRO series room packages consist of all bass traps. Remember bass is the toughest frequency to control, so bass traps are a must. The more you deploy the better off you are, especially in smaller rooms where bass frequencies are a major problem.
---
Q: Are sound panels, bass traps or Baffles used for soundproofing?
A: No, they are not designed for that purpose. Please see our Soundproofing FAQ for details. Although they provide excellent sound absorption inside a room, they have no impact on the amount of sound transmitted through walls, windows and crevices. Acoustic panels are mainly used to condition sound in the room and make it more pleasant by reducing echoes, slap, reverb caused by sound waves reflecting on hard surfaces and parallel walls. Visit our Soundproofing FAQ for more detailed information about noise control.
---
Q: I have a 9 x 10 foot office. I want to dampen the sound enough so that less is transmitted to the next room. I don't need to totally block sound. Will the panels help with that? -Susan
A: Unfortunately no. Sound panels do not reduce sound, they absorb sound waves before they reflect off walls back into the room. In doing that, they help knock out any echoes and reverb you might have and in turn make conversations heard clearly. They will not absorb enough of the overall sound to keep it from leaking out. Visit our Soundproofing FAQ for more details and possible solutions to your dilemma.
---
Q: How many acoustic panels and/or bass traps do I need to reduce echo?
A: It all depends on the total square footage of hard surfaces in a room. For optimum performance, the recommended minimum coverage is 25 to 30% of all hard surfaces. By providing us with the room's measurements, we can calculate exactly how many panels you would need for your deployment scenario. Give us a call and we'll walk you through the process.
---
Q: How are your panels and bass traps installed on walls?
A: Acoustimac provides z-clips installation hardware with all of its acoustic panel and bass trap products. You attach two Z-Clips on the upper corners of the panel backing, about an inch or more from the edges using provided wood screws, be sure to orient the screw holes to the top. Then attach the remaining two Z-Clips to the wall with the screw holes oriented to the floor and be sure they are at the same level and are spaced the same as they are on the panel. Then you slide the clips on the panel over the clips on the wall and that's it.
Please view installation diagram below for standard acoustic panel or bass traps:Panel wall installation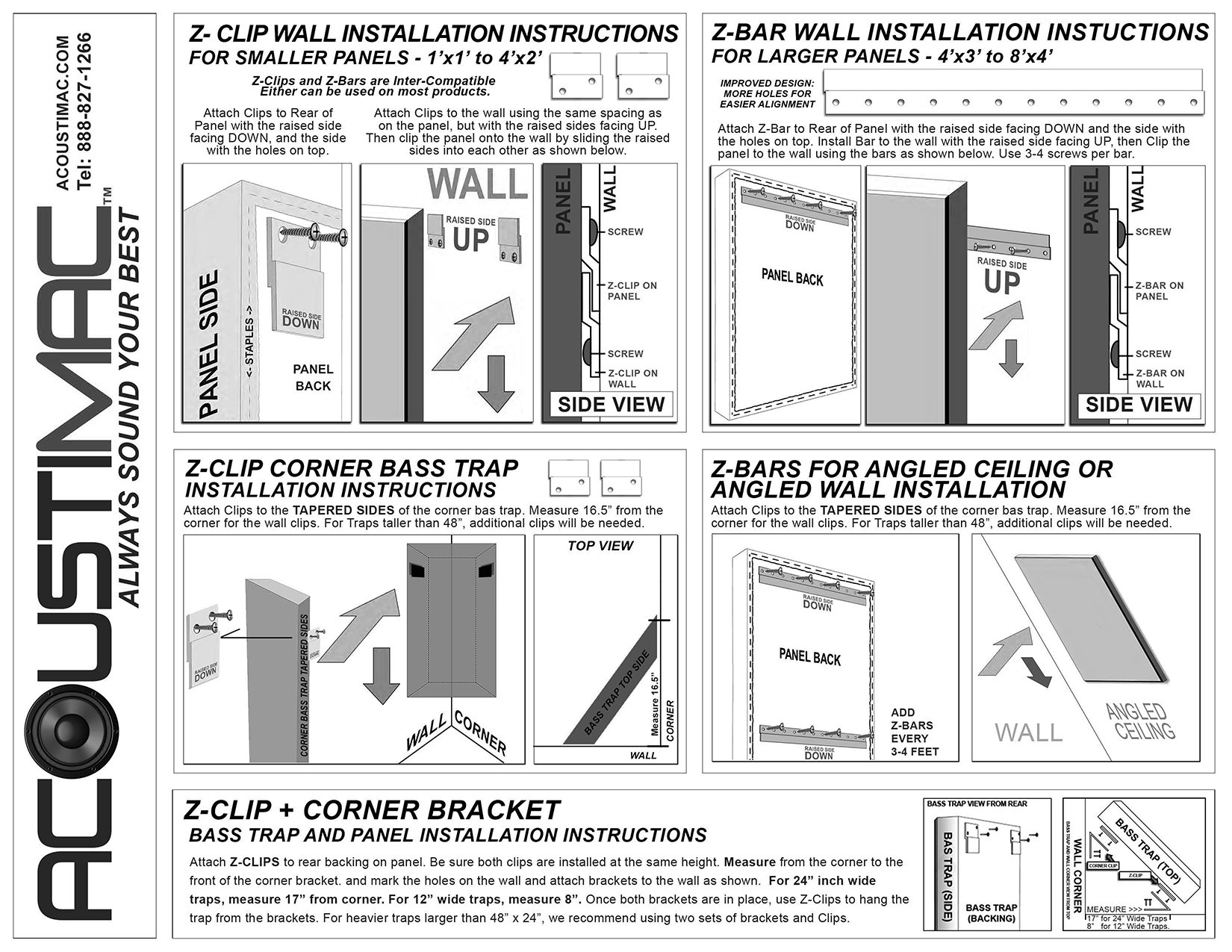 ---
Please view installation diagram below for corner bass traps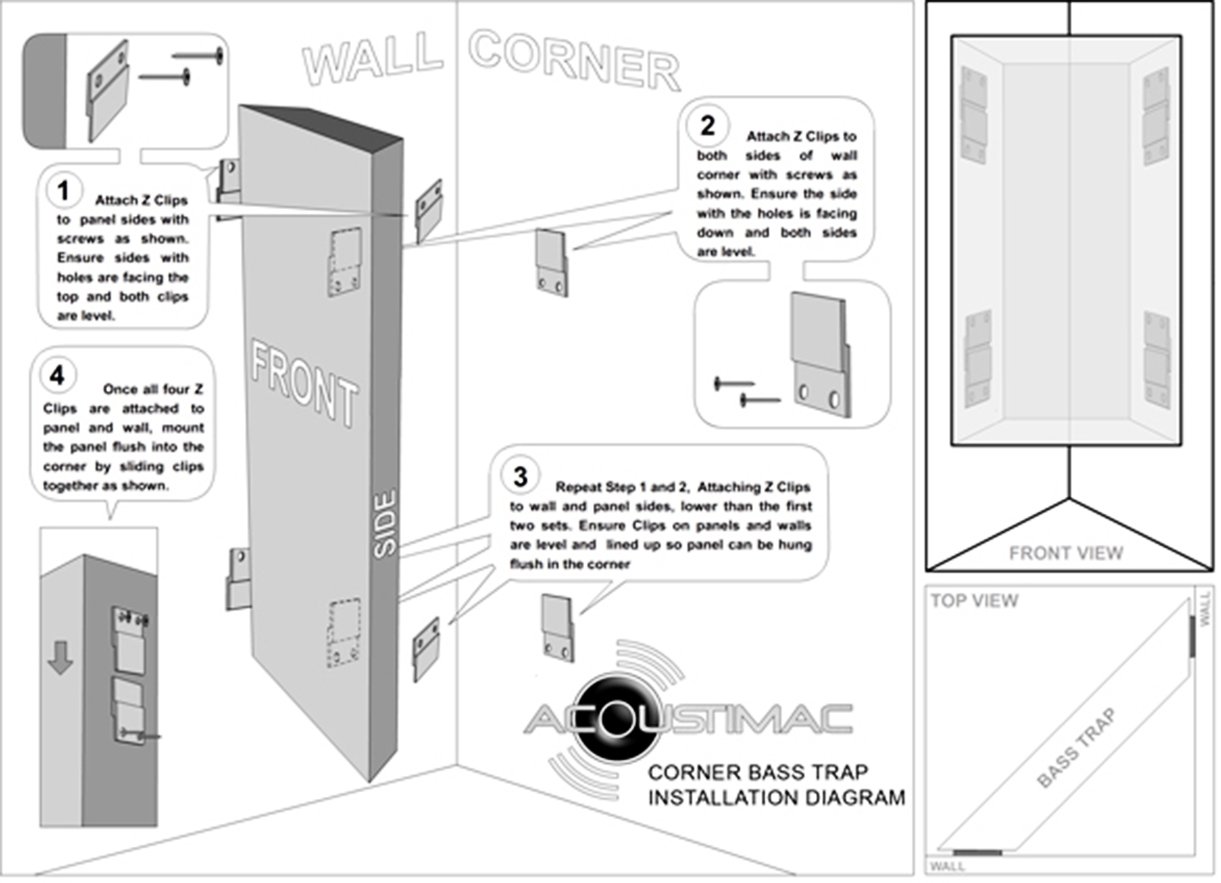 ---
Q: How do you install acoustic panels on ceilings?
We have two methods our customers have had great success with:
A: Z-bar installation : Requires 4 Z-bars per panel as shown below. You will set up two bars on the ceiling, parallel and with the raised sides facing each other. Then you will install the bars onto the panel back boards, taking into account the spacing you set up between the bars on the ceiling, also parallel to each other but with the raised sides facing away from each. Then you slide the unit's bars into the bars on the ceiling :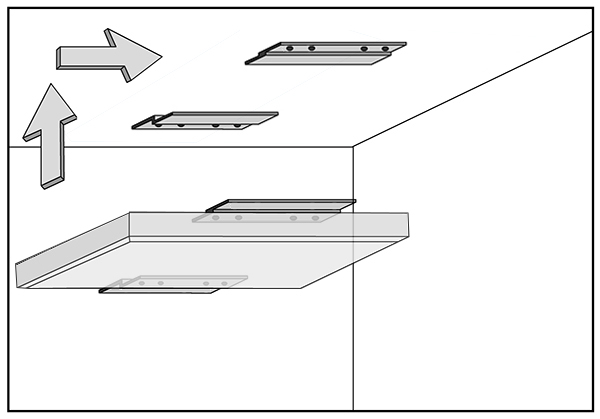 B: Ceiling Suspension with Eye-Hooks :
The other installation method on most ceilings would be to suspend the panel by using eye hooks and nylon or wire lines.
See diagram below:Ceiling Panel Installation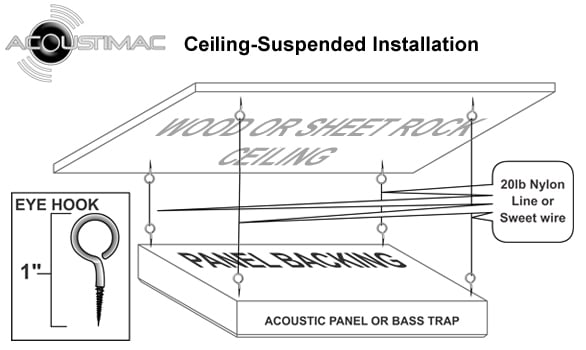 ---
Q: How can I install my BASS TRAP or CORNER BASS TRAP to straddle the corner of my wall and ceiling horizontally?
A: For CORNER Bass Traps, you install the clips to the tapered sides of the trap, however you orient the clips on the back as shown below: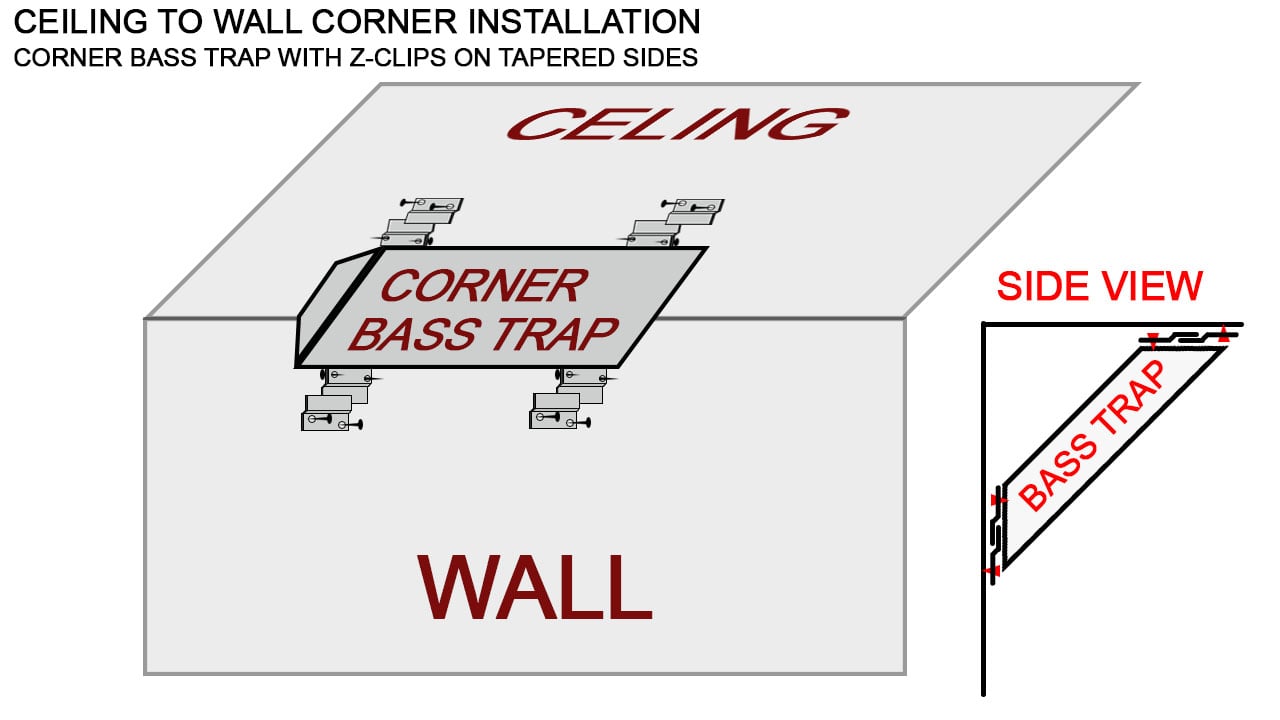 For REGULAR Bass Traps with Corner Mounting Brackets, you will install the 45 degree brackets to the ceiling and wall, then orient the Z-clips on the back as sown below: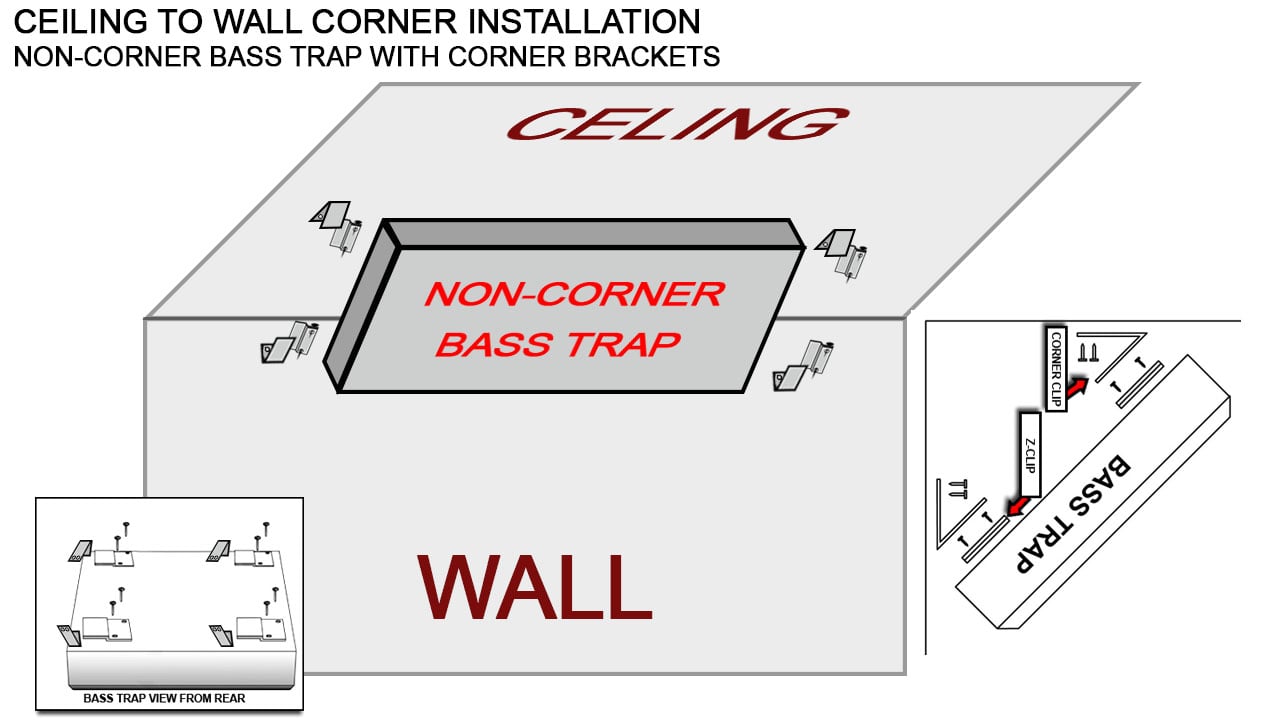 ---
Q: How do you install Acoustic Baffles on walls or ceilings?
A: For ceiling installations, the simplest way is to suspend the Baffles using a fishing line or a thin wire. Place eye hooks on the ceiling and attach a wire to both hook and grommet. Safely suspend them from ceiling. Nails or screws would be the easiest way to place them on walls.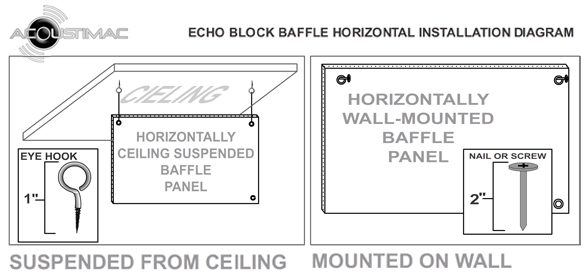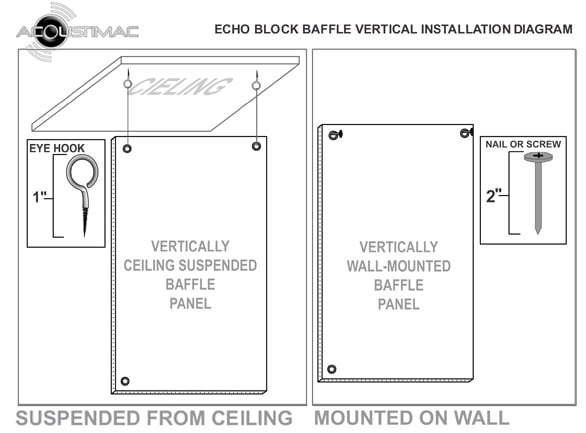 ---
Q: How are acoustimacs sound panels rated?
A: Panels are rated in NRC (Noise Reduction Coefficient) and our bass traps in Sabins (unit of measure of sound absorption in the inch-pound system). All of bass traps and panels are independently tested by Riverbank Acoustics. The higher the absorption # the better the panel is. This is important because it's a very effective way to gauge panel performance when compared to other vendors or similar products in different thicknesses from the same vendor. Acoustimac panels and bass traps have some the best absorption coefficient in the industry.
---
Q: What is the difference between the acoustic core materials? (owens corning, mineral wool and Eco core recycled insulation)
A: They all provide excellent absorption, but we offer our customers the choice for different reasons. Here are the main varying features to each of our insulation types: -Owens Corning 703 and 705 - Acoustimac offers this insulation as a choice mostly because of popular demand. For decades, Owens Corning rigid fiberglass insulation has been the mainstay of the industry. -Mineral Wool 1260 and 1280 (Rockwool/ Roxul) - This insulation is our primary production insulation because it outperforms Owens Corning 703 in sound absorption and is more eco friendly than OC703. -Acoustimac Eco core Insulation (4Lb) - is the best sound insulation we have to offer in terms of performance. It outperforms them both and is much more durable and does not irritate skin like fiberglass does. Not to mention it's made of 100% recycled materials and is completely biodegradable.
---
Q: What kind of fabrics and colors does Acoustimac have available?
A: We currently carry over a hundred colors in over six different collections. VIEW OUR SELECTION OF COLORS HERE:
---
Q: Can I get acoustic Fabric samples?
A: Absolutely, we offer samples from any of our fabric collections.
---
Q: Can I send you fabric to wrap my panels?
A: Sure thing. We would be glad to fabricate sound absorption panels for you, using your own fabric. The cost will be the same as our standard DMD panels. You will be required to send us the fabric before production can begin. Also we advise you to use a breathable fabric for acoustic transparency as a fabric with too tight of a weave will reflect sound which render the panel useless.
---
Q: Do you make custom sizes?
A: We can make you panels in any size up to 48"x96". As long as the shapes are rectangles, trapezoids and parallelograms with angles of 90 and 45 degrees.Panel Shapes
---
Q: Can I get Beveled edges on my panels instead of squared?
A: Yes, we offer 45 degree beveled edges for a small upcharge
Eco Core Acoustics FAQ
---
Q: What is the difference between your Eco Core products and a standard fiberglass based panel?
A: Aesthetically, they are identical in appearance. However, in terms of performance, the Eco friendly insulation performs better for bass absorption.
---
Q: Is Acoustimacs Eco Core insulation as effective as fiberglass?
A: Every bit as good, and even better when it comes to bass absorption. Our bass traps loaded with Eco insulation absorb much better than their fiberglass brethren.
---
Q: Are there any other benefits over fiberglass insulation?
A: Several:

Practical: Eco Core insulation doesn't irritate your skin like fiberglass, making it much much easier and comfortable to handle.
Structural: Eco Core is more sturdy and stable than fiberglass cores. Does not fall apart.
Environmental: Eco Core is 100% biodegradable and made of 100% recycled paper and cotton.
---
Q: Can Eco-Core insulation be used in any of your product sizes and custom products?
A: Absolutely, all of our products and room package deals offer Eco Insulation as an option for only a few dollars more. The extra money is well worth it.
---
Q: Is Eco insulation as durable as fiberglass?
A: No, it's stronger! Fiberglass has the consistency of cotton candy which flakes and breaks apart very easily. Eco Core has the consistency of a sponge which stays together and requires a lot more force to break. Which makes it the perfect materials to make high impact acoustic panels.
---
Q: Why is it more expensive than fiberglass if it's recycled?
A: Mostly Economics and the Supply/Demand Cycle. There is not as much demand for it yet. Once production grows prices will be on par with fiberglass. At the moment, Eco insulation is a bit more costly, however, with the increase in demand for eco friendly building products, we've seen the cost of this material drop significantly in the last five years, enough so that now we are able to offer it as a viable and high performance alternative to fiberglass. Soon it will be in such demand that it's price will drop enough for us to phase out fiberglass all together. We greatly look forward to that day! (So does our production crew, they can't wait to say goodbye to itchy fiberglass)