Available DMD Colors
ECO-CORE WHITE DMD NOTE:

Our eco-core material has contrasting bits of colors from the different recycled products used in it's composition which may be visible through our white DMD fabric.

IF YOU PLAN ON USING OUR ECO CORE WITH WHITE DMD FABRIC, WE HIGHLY RECOMMEND SELECTING OUR DOUBLE WRAP (RECYCLE SYMBOL) OPTION IN THE COLOR OPTION.
Product Detail
A 4" thick bass trap (24x24x4"). 13 colors to choose from. Packed with 4" deep of the best acoustic material available and wrapped in beautiful designer fabric, this bass trap is one of the best values out there.
Measuring 24"tall, 24" wide and x 4" thick. It absorbs super well at low frequencies and is equally good for the rest of the spectrum. They can be easily hanged with our Z-clips or just placed on the floor against room corners. Grab a few today! We guarantee you will love the way these bass traps will clear up and tighten up your sound.
They can also be used as high frequency absorption acoustic panels.
Not sure what colors you want:
CLICK HERE TO ORDER SWATCHES
Product Technical Specifications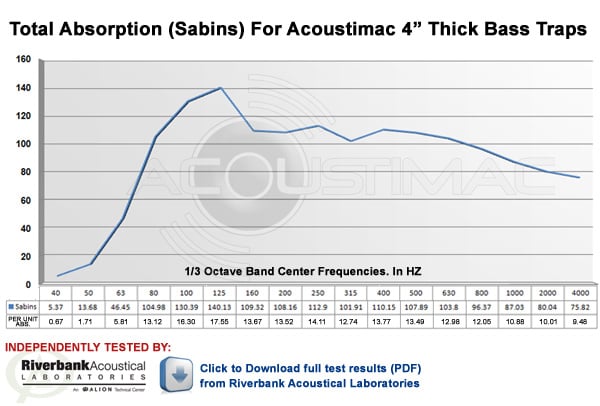 Corner Bass Trap Installation
Product Technical Specifications