Return to Previous Page
Details
PRE-MADE 48"x24"x1" wood frames for your DIY acoustic panels.

These frames will help your acoustical material hold up better, plus it will give it a sharper, squarer look. Your bass traps and acoustic panels will last a lot longer too.
We can also make them in 2 feet x 2 feet x 2" or 1". Please call us if interetsed.
We at Acoustimac are striving to make your life easier.
If you were thinking of building wood frames for your acoustic panels, please do yourself a favor and consider our pre-built frames.
Building one yourself will cost you as much if not more than what we are selling a professionally pre-made one for.
Our wood frames are built from the highest quality 1/2" plywood and all come with a beautiful beveled edge.
Once wrapped with acoustic fabric, they will make your DIY acoustic panels look even more professional.
They come in 2", 4" and 6" depths and measure 48"x24".
They can be used with our MNW-1230 Mineral Wool or Owens Corning 703 rigid fiberglass to build excellent acoustic panels.
1" deep SPACE SAVER wood frame for you 48"x24"x1" DIY panels.
We can also make these in 2 feet x 2 feet. Please call to inquire.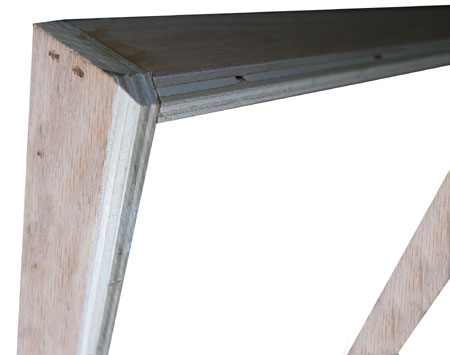 Customer Reviews
Review by

Marcel Jolie

Great diy acoustic material selection. Frames area great choice for building panels. I love the beveled edge. At $11.95 they are a steal. (Posted on 3/17/10)

Review by

MARTY ALLEN

Inexpensive, but good quality. Fast shipping. (Posted on 3/17/10)